Ratings : F-D – 4.0/5 | TripAdvisor – 4.5/5 | Facebook – 4.8/5  | Google – 4.7/5
---
A popular spot for food-drinks.info to relax is G'vine (George's Vineyard) in Almere. We frequent this place to enjoy some of the great wines, beers or gin tonics served by George.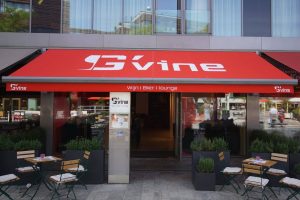 George opened G'vine in Juni 2016 and managed to get a nice group of loyal customers. That combined with the occasional visitors and tourist makes it a nice mix.
Besides a drink you can also have a snack at G'vine. They serve the famous Dutch 'bitterballen' from De Bourgondier, make a mean set of pinchos or you order a cheese or meat platter. All combinations are possible. Another option is to get something from the surrounding restaurants of Belfort to be served at G'vine.
Inside you can sit at the bar, at the bar tables, the lounge chairs or in one of the cozy corners in the back. Outside there is a nice terrace on the Belfort.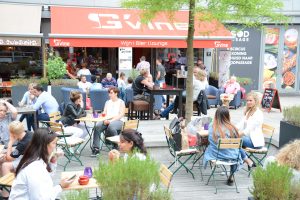 Often on Fridays and Saturdays G'vine offers live music and throughout the year there are various events scheduled such as wine or beer tastings.
Maybe we see each other at G'vine!
G'vine Wijn – Bier – Lounge | Belfort 130 | 1315 VD Almere