Kaas met Liefde & Ambacht translates into 'Cheese with Love & Craft" and that is exactly what you'll experience when you buy your cheeses in this beautiful shop in the Foodpassage in Almere.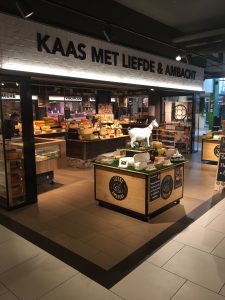 Wesley, who owns and operates this shop, puts a lot of love and knowledge into this place. Specialized in cheeses from Dutch farms they have a wide selection that you can always taste while Wesley advises you on his products.
Beside the Dutch cheeses Liefde & Ambacht also sell some French and Italian ones.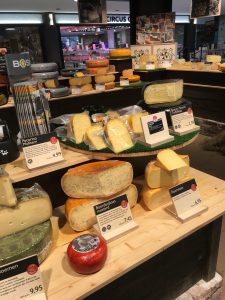 You can pick up great recipes for a cheese fondue and the cheeses you need can be grated for you.
For traveling abroad it's possible to have your cheese vacuum packed and you always get the piece of paper to pack the cheese ones it comes out of the vacuum.
In the year that Liefde & Ambacht Almere is operating they gained a lot of regulars that prefer this shop with crafty Dutch cheeses above the grocery store!
---
Kaas met Liefde & Ambacht  |  Foodpassage (Schippersgarage)  |  Almere