Ratings : F-D – 4/5 | TripAdvisor – 4/5 | Facebook – 4.6/5  | Google – 4.5/5
---
Ever so often we visit Quartier Latin, a nice small restaurant in the center of Amsterdam. For over 40 years (since 1975) this restaurant is being owned by the same couple.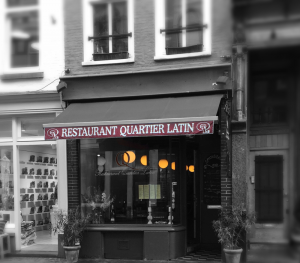 He runs the front of the house and she takes care of the kitchen, on busy nights they expand the staff with their sons and others. The communication between the two is very pleasant to witness, 'just a blink of an eye' is often enough. Since the kitchen is open the chef can see what's happening and she manages a perfect stream of great dishes going into the restaurant.
The menu is traditional French and main dishes come with French fries, warm vegetables, a potato gratin and a salad. We enjoyed the tuna carpaccio, the game paté, the carpaccio from angus, the catch of the day and the ribeye. All cooked to perfection! For dessert we had the crêpe Quartier Latin and the homemade creme brûlée.
The owner has great connections with various suppliers so he gets first choice  of the best and most fresh products they have. Except for the menu there are always some specialties and we can highly recommend the pan fried sole.
---
Restaurant Quartier Latin | Utrechtsestraat 49 | 1017 VH Amsterdam