Ratings : F-D – 4.5/5| TripAdvisor – 4.5/5 | Facebook – 4.7/5  | Google – 4.4/5
---
Food-drinks is enthousiast about an newly discovered restaurant in Amsterdam. Located on Singel 101 bearing the same name.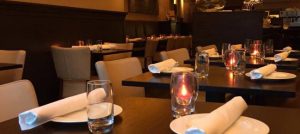 The restaurant operates without a menu. The chef, Orlando David Iradi, who has worked with three Michelin star chef Sergio Herman, is based on the chef's menu only. It starts of with three courses for € 35,= and can be extended to 6 courses.
Our visit started of with some nice amuses presented in a trendy style. Our three course menu started of with a very nice salmon, served in a cucumber soup, with a kroepoek of potato and an ever so nice wasabi creme.
For us the star of the menu was the braised veal cheek in it's own jus. Accompanied by some grilled green asparagus and leek.
The dessert was a very tasty panna cotta style pudding with passion fruit.
The restaurant is family owned and run which provides a good understanding of hospitality. The lady serving is very friendly and does everything to make your dinner a great experience.
We understand the menu changes often depending on availability, season, quality, freshness and price of the produce. That showed when, a week later, we visited Singel 101 again and had a completely different new menu.
---
Restaurant Singel 101  |  Singel 101  |  1012 VG  Amsterdam