Ratings : F-D – 3.0/5 | TripAdvisor – 4.0/5 | Facebook – 4.5/5  | Google – 4.5/5
---
We were in Enkhuizen. A small touristy town in the north of North-Holland. One of the main streets is the Melkmarkt, where you find numerous restaurants and places to snack. We decided to go for lunch at Restaurant Lounge Eighteen.
We enjoyed the terrace overlooking this rather busy street. Service is very prompt and friendly. We had our cappuccino's and checked out the menu.
Bert deciden on the tomato soup that, according to the menu, has an asian twist to it. The waitress said the mention of asian is because it is rather spicy. I decided on a steak sandwich with steak strips, mushrooms, onions, paprika and HP Sauce.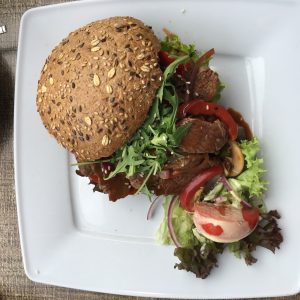 The tomato soup was served in a big soup plate. We couldn't find anything asian about is. It wasn't spicy, and the added zucchini and rocket salad are definitely not asian. You wonder why the description on the menu doesn't match the product.
The steak sandwich contained plenty of steak. Unfortunately just a few onions and mushroom. The tast of the HP Sauce got lost because of the salad on the sandwich.
All in all nothing special. Fair product for reasonable prices. Next time I visit Enkhuizen I'll try another restaurant.
---
Eighteen restaurant lounge  |  Melkmarkt 4  |  1601 HC Enkhuizen