Ratings : F-D – 3.0/5 | TripAdvisor – 4/5 | Facebook – 4.6/5 | Google – 4.6/5
---
We passed it before, this cosy looking dinner Dutch style. This time we decided to stop and check it out.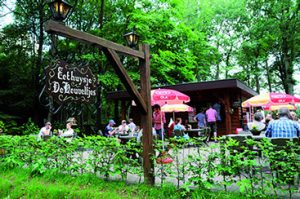 The menu indicates a marked up chips shop with some addition so they are able to do plate service. Everything with chips (fries) and mayonaise. Nothing fancy, but they are around for over 50 years so they must be doing something good.
Nice place to sit on a sunny day, with big bulky wooden furniture and adequate service.
We both had a milkshake made with their soft ice cream. Bert had a decent pancake with bacon and I had the fries with beef stew. Nicely presented but judging by the taste from a tin.
---
Eethuisje "de Heuveltjes"  |  Apeldoornsestraat 36-1  |  3781 PN  Voorthuizen