Ratings : F-D – 4.5/5 | TripAdvisor – 3.5/5 | Facebook – 4.5/5  | Google – 4.0/5
---
PorterHouse is a wonderful modern and contemporary restaurant with a casual atmosphere. It's located at the marina of Naarden.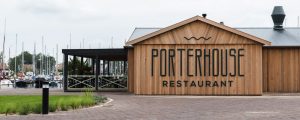 The porch overlooking the marina functions as a terrace and is a perfect spot to enjoy a nice dinner or some bites with family and friends while enoying  the harbour.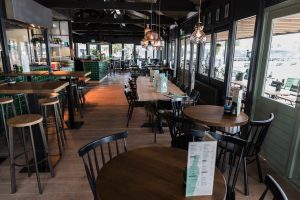 The interior of the restaurant has a great industrial look and feel, with a big bar and an open kitchen.
Maybe you can get a spot at the chef's table and enjoy watching your food being prepared.
The menu is based around steaks, but they also serve rotisserie farmhouse chicken, burgers, salads and fish. Except for the burgers, which comes with fries, you can order all side dishes separate. They are big enough to share with your other guests.
For an enjoyable time with just some nice wine and smaller dishes the PorterHouse  menu contains a section of bites. Perfect for sharing!
We enjoyed the crispy onion rings with lime aioli and the chicken wings with herbs and garlic from the bites menu as starters. As our main we had the ladysteak and a premium bavette. Both were perfectly grilled and very tender. The steaks are served standard with a sauce based on Madeira. For the bavette I chose the chimichurri that is prepared at the table.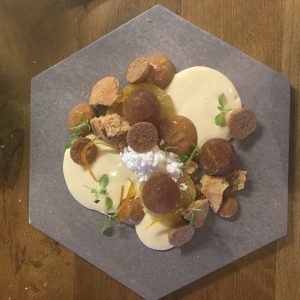 The good habit of asking for specials that are not on the menu resulted in us being the first guests to enjoy the new dessert based on coffee with orange.
It is like Grand Marnier on a plate. Very tastefull and I can highly recommend this as a great way to finish your meal.
The staff at PorterHouse is very friendly and welcoming. Service went smooth and the timing between courses fitted our expectations.
PorterHouse is a very popular restaurant and I advice you to book a table before going there.
---
PorterHouse  |  IJsselmeerweg 6  |  1411 AA Naarden