Ratings : F-D – 4.5/5 | TripAdvisor – 4.5/5 | Facebook – 4.9/5  | Google – 4.2/5
---
Restaurant Hanninkshof is located in the small village of Usselo that is a part  of the municipality of Enschede.
Hanninkshof is located in an old building that dates back to around 1800 when it was already in use as the local cafe. It has convenient parking right in front of the restaurant.

Entering through the hallway you are in the lobby and are welcomed by one of the staff members. If you like you can enjoy your aperitif here seated in the comfortable Chesterfield chairs.
The interior has a warm feel with a nice mix of classic and modern furniture and decoration.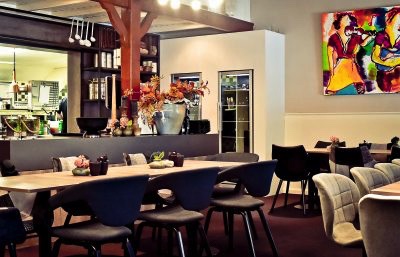 The food can be described as classic French taste with a modern twist. Hanninkshof works as much as possible with Dutch products in accordance with the season. They source from small farmers and producers and know exactly where the products came from. The herbs used in their dishes are homegrown.
You can choose between 3,4 or 5 course menu, eat à la carte or go for the 4 course sharing dinner.
Our party of six was at Hanninkshof to celebrate, so what better way to do that then with the sharing dinner? We were surprised with a nice amuse bouche of asian style mussel and salmon that paired wonderful with the Champagne (Bernard brut tradition premier cru) that we enjoyed before starting our dinner.
What followed were three perfect courses of various items from the menu supplemented by more delicious food that isn't offered standard. My host had done some wine pairing beforehand and checked his choices with the staff to make sure everything combined. I can tell you that we enjoyed great wines that evening.
Last but not least we were served a great variety of desserts, served by the very young, and very capable, pastry chef.
The staff at Hanninkshof is young, well trained and very impressive. Of course the are mentored by the chef and owner Jojan Kersbergen who has worked at Librije (Food on Tour), Dorset in Borne and Mooirivier in Dalfsen and Sabine Hof (hostess and sommelier) who worked as hostess at 't Zusje van Librije, Dorset and Mooirivier.
I have to mention the sous chef of Hanninkshof, Gert Bakker. Only 23 years old and already capable to manage the kitchen. Gert featured on Chefsplateform with an interview.
Our whole party enjoyed this culinair adventure at Hanninkhof. I can highly recommend Hanninkshof for an intimate dinner with your significant other or for dinners with more then just the two of you.
---
Restaurant De Hanninkshof  |  Usselerhofweg 5  |  7548 RZ Usselo (Enschede)