Ratings : F-D – 4.0/5 | TripAdvisor – N/A| Facebook – 5/5  | Google – N/A
---
Earlier food-drinks.info informed you that Lou street food bar is opening on August 11 in Almere. We promised you to report back after our visit.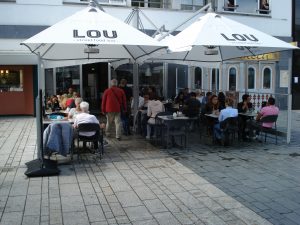 Lou has a great variety of street food and an extensive choice of alcoholic and non-alcoholic drinks. The interior has an industrial look and feel with plenty of seats. Outside you'll find a big terrace where you can sit and relax under the big screens with heating and light.
When you visit Lou, for a drink, a snack or more, simply take a seat and a staff member will be with you soon to take your order.
Food-drinks.info visited with a company of three. We enjoyed a gin tonic, a Brugse Zot Dubbel (draft beer) and a Coca-Cola while making a choice from Lou's food menu. We decided on the Taco's Gamba's, a Black Jack's Hotdog (by Brandt & Levie) and the homemade fries with Beef Stew.
The food is very nice presented in real street food style, on cutting boards, grease proof paper and recycled (kraft) containers. Everything tasted great and fresh. We already decided to go back soon to have a go at one of their burgers made with Angus beef.
Lou is a welcome addition to the Almere eateries. Without any advertising they simply opened the door and started. The public of Almere is drawn to the place because of it's location and the inviting look and feel. Of course the moderate prices are a big help too.
Food-drinks.info understands Lou will be open 7 days a week from 11.00 till 23.00 and in the near future on Fridays and Saturdays till 05.00.
Let us know what your thoughts on Lou are by leaving a comment below!
---
Lou street food bar |  Grote Markt 84  |  1315 JJ  Almere