Ratings : F-D – 3.5/5 | TripAdvisor – 4.0/5 | Facebook – 4.9/5 | Google – 4.3/5
---
Very  close to our house is Wilma's Place, located in a industrial/business zone very typical to Dutch cities. We have visited this place for the first time years ago. We were thinking about a place for a quick lunc and Wilma came to mind.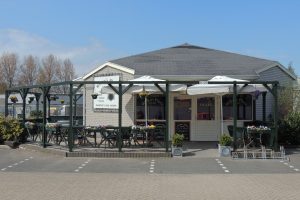 We sat at the terrace on a round, threelegged table that required some searching where we would be able to lean without tipping the table. Finaly we found a more or less stable position.
We both had the meatball sandwich. One dressed with salad, baby mushrooms, bean sprouts and peanut sauce. That was one of Wilma's weekly specials. The other regular. Nice meatbals, with nice presentation and everything to taste. Good place for a quick lunch.
---
Wilma's Place  |  Markerkant 1123  |  1316 AK  Almere