Ratings : F-D – 4.5/5  |  TripAdvisor – 4.5/5  |  Facebook – 4.8/5  |  Google – 4.4/5
---
I had heard a lot about restaurant C in Amsterdam and have been following them on their Instagram account. They quite intrigued me and they were high on my list of resturants to visit. You can imagine that I was very happy when my husband Bert and I were invited by a good friend of ours to have dinner at C.
Sunday June the 11th we started our visit on the nice big terrace of C. We enjoyed a nice glas of Cremant d'Alsca Kuehn, Cuvée Prestige and a cocktail by the name of Dark & Stormy which was made it Gosling's Rum, lime, Angustura bitters and ginger beer.
After finishing our drinks we went into the restaurant. It features an nice open bar/lounge space. Behind the bar is a big open kitchen with the tables on both side.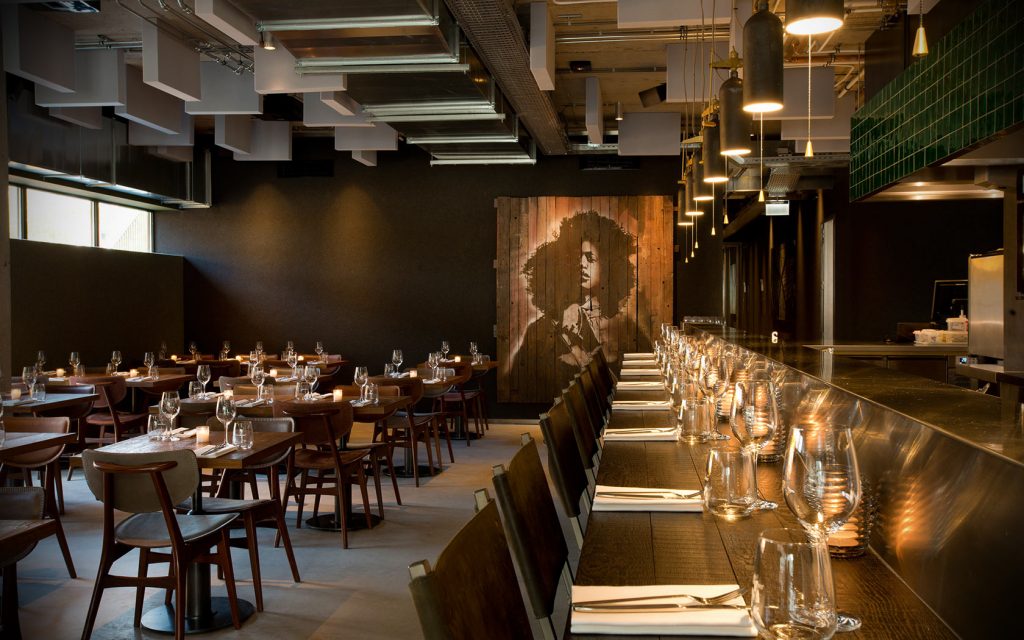 The staff is very friendly and will answer all your questions. We decided to take our pick from the menu and leave the 4, 5 or 6 course 360-degree (surprise)menu's for what they are. A menu that is based on degrees Celsius and has no definition for starter or mains is perfect for creating your own perfect menu.
We enjoyed -amongst other dishes- the veal tartar, the tuna in a Thai salad, the Hoisin pork belly, the veal cheek and the pasta from Iringi mushroom with truffle and egg yolk. Everything tasted and looked great.
As a dessert we had the smoked chocolate, which was served by the pastry chef herself. Caught under a glass bell filled with smoke -freshly made with real wood chips- was a wonderfull dessert based on chocolate, with salted caramel, and whiskey.
The quality at C measures up to, and maybe exceeds some of the Michelin star restaurants in Amsterdam. No wonder when you realise that the chef duo of Michiel van der Eerde and Arnout van der Kolk both worked in some great restaurants before joining C.
---
Restaurant C  |  Wibautstraat 125  |  1091 GL Amsterdam