Ratings : F-D – 4.5/5 | TripAdvisor – 4.5/5 | Facebook – 4.9/5 | Google – 4.2/5
---
In April 2018 Par Hasard opened their doors in Almere. Located on the Belfort, the restaurant square of Almere.
It's the first franchise of this concept that has been proven successful in Amsterdam. Richard, the franchisee, has been the chef in Amsterdam for over three years, before opening his own Par Hasard.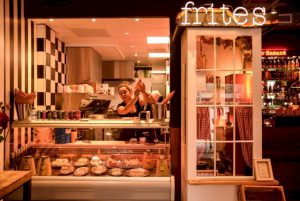 The atmosphere is that of a Belgian 'frietkot' combined with that of a eatery. Par Hasard has a nice menu, with starters and main courses. Most products are homemade, and that reflects in the taste. The fries are fresh as are their sauces and side dishes.
Special wishes? No problem for Richard. If possible he will accomodate you.
We always enjoy eating at Par Hasard. Service is friendly and professional and fits the cafe feeling of the place. We enjoyed the small sole fish, the satay, the hamburger, the chicken, the fish and chips and of course the 'zoervleisj'.
You are also welcome for just a drink, or a few. We are sure you will order some nice snacks to go along.
---
Café Par Hasard Almere  |  Belfort 128  |  1315 VD  Almere