Ratings : F-D – 3.5/5 | TripAdvisor – 4.5/5 | Facebook – 4.9/5  | Google – 4.7/5
---
Driving through the Dutch countryside we decided on a visit of the Buitenplaats (estate) Amerongen. This beautiful estate is the place of a castle and in one of the old outbuildings you'll find restaurant Bentinck.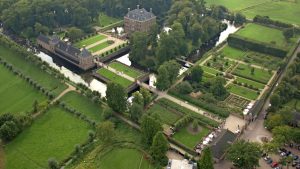 We found a table on the terrace with a great view of the castle. We had to ask for a menu and overall the service was not too observant. We enjoyed a few  neighborhood beers and a Bobby's gin tonic with slices of orange with cloves.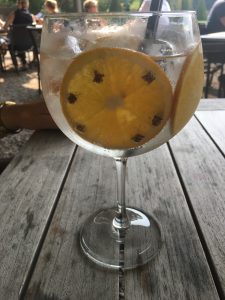 From their 'bites' menu we ordered the cheese platter, the shrimps in panko and the homemade small meat croquettes. The cheese platter had five very small pieces of cheese on it. Shrimps and croquettes, six of each, were nice.
Unfortunately we had to ask the staff to clear the table. When ordering a second round of drinks they apparently didn't notice the snacks were finished so they left the platters on our table.
We left at 16:12 hrs. and everybody was very busy setting tables for dinner and placing the reserved signs on them. This seemed very early to us, and the effect was that people arriving just for a drink were denied a table. Maybe they have a good reason, but it seems they are missing out on business that way.
When we are in the area again maybe we go back to Bentinck because of the nice terrace but it's not on the top of our list.
---
Restaurant Bentinck | Drostestraat 12 | 3958 BK Amerongen