Ratings : F-D – 3.5/5 | TripAdvisor – 4/5 | Facebook – 4.2/5  | Google – 3.9/5
---
Food-drinks.info needed a lunch while touring on a beautifull and sunny day in August. We are always on the lookout for nice place to have a bite to eat. That is how we found ourselves on the terrace of De Kluis (The Vault) in Doorn.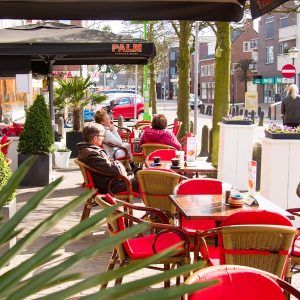 Bert started with a latte macchiato and a pastry called 'skitaart' and I had a cappuccino. After that we decided to order from the lunch menu. We had a sandwich roll with warm meat and peanut sauce and the chef's surprise.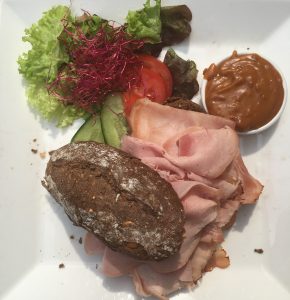 Normally this type of sandwich is made with slices of roulade but this one was made with ham, and lots of it. Unfortunately the request to put butter on the sandwich wasn't honored. Ham and bread tasted great and made a nice lunch.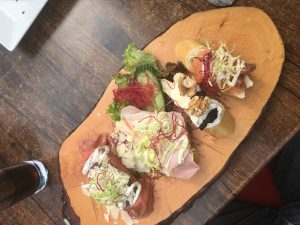 The chef's surprise consisted of four slices of French bread with carpaccio, ham, goats cheese and salmon. Made me think of pinchos.
All four were very tasty and fresh with appropriate dressings.
Very friendly staff, nice location and terrace in the center of Doorn. Food-drinks.info would go back whenever in the neighborhood.
---
Gasterij De Kluis | Plein 1923 nr. 24 | 3941 ER Doorn