Ratings : F-D – 3.5/5 | TripAdvisor – 3.5/5 | Facebook – N/A | Google – 4.3/5
---
During our trips through the Dutch country side we often passed De Kooi. It's a big venue a bit isolated just outside the village of Bunschoten-Spakenburg. It never really appealed to us, but everytime we said we should find a moment to stop and visit.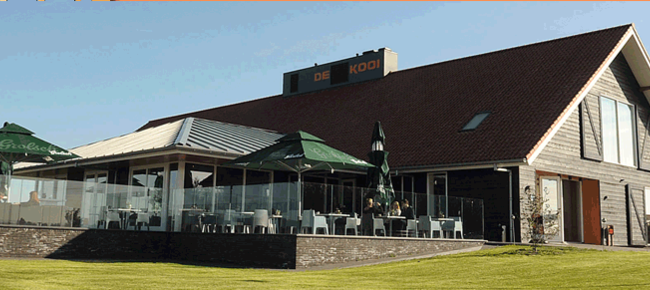 On friday the 21st of July we decided to have a lunch at De Kooi and check it out. We parked at the back and entered the big terrace. The tables were clean but the chairs a rather bulky plastic and difficult to lift. They produced a lot of noise scraping over the surface of the terrace.
Staff is friendly and quick. We enjoyed a cappucino and a latte machiato, both with milk that was heated properly. Bert had two slices of bread with warm meat and a peanut sauce. Big portion of meat, good regulare sauce and very tasty and fresh bread. I had a club sandwich with was supposed to be smoked chicken. It's always dissapointing when served with chicken roulade instead off a thicker sliced chicken breast.
---
De Kooi  |  Zevenhuizerstraat 1  |  3751 LC  Bunschoten-Spakenburg