Ratings : F-D – 4.0/5 | TripAdvisor – 4.5/5 | Facebook – 4.7/5 | Google – 4.4/5
---
During our second visit to Roast It in Borne the weather was nice and we were able to get a table outside. Friday night and nice weather so they were very busy  this friday.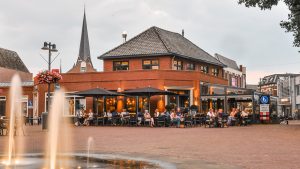 A bit understaffed with one friendly waiter being able to take orders with his handheld divice and one runner for the terrace.
We were able to order and had the spare ribs and hamburgers from the grill. It all took some time, more then necessary. The food was what you can expect. Nice meat, nothing more, nothing less.
We nagged a little about the lack of service staff and tried to explain it's costing them money. They didn't seem to realize.
When paying the bill, Olivier, our friendly waiter, had written on the ticket "Thanks for everything and your understanding!" – Olivier
---
Roast It  |  Doresetplein 4  |  7622 CH  Borne