Ratings : F-D – 4.0/5 | TripAdvisor – 3.5/5 | Facebook – 4.5/5  | Google – 4.3/5
---
Food-drinks.info visited Blusing in Blaricum. Blushing is wel known in The Netherlands mainly because it's owned by Gordon Heuckeroth, a singer/presenter and TV-personality.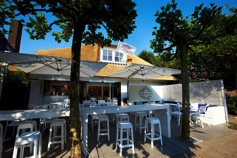 Gordon opened his first Blushing in July 2014 in Blaricum, the place he used to live. Blushing has expanded and can also be found in Amsterdam (since May 2015) and Rotterdam (since June 2017).
Blushing stands for 'blushing and glowing with health'. They offer alternatives for the overly fat and sweet products usually served in these types of establishments.
Blushing serves breakfast and lunch and you can enjoy coffee, tea, superfood & shakes.
Bert enjoyed a lemon meringue pie (sweetened with stevia) and a latte macchiato with curcuma. Both very tasty.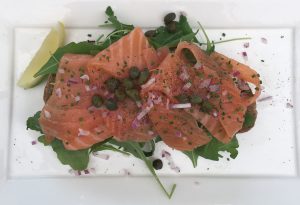 I had a Pzalm 50 (smoked salmon, cream cheese light with chives, avocado, rocket salad, chopped red onions and capers) on a slice of very nice dark sourdough bread. The salmon was plenty, fresh, tasty and not to thin sliced.
Good food, in combination with a friendly staff, a nice location in Blaricum and a cozy terrace made for a nice lunch.
---
Blushing  |  Huizerweg 4  |  1261 AW Blaricum