Ratings : F-D – 4/5| TripAdvisor – 3.5/5 | Facebook – 4.4/5  | Google – 4/5
---
We have visited the Seterse Hoeve more then once over the eight years it exists. A nice continues factor in de Oosterhoutse food scene!
Quality is always as to be expected and is better then average. We enjoyed the  chicken salad, the salad with Asian and Italian tuna and the omelette with mushroom.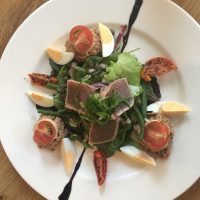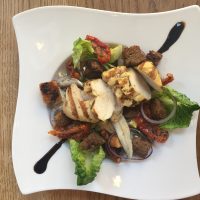 Service is very friendly and quick and staff consist of a mix of young and older experienced people. However, this is no guarantee for good communication. We ordered the salad tuna without rucola. Our waitress had checked with kitchen staff and this would not be a problem. It was clearly written on the order ticket, but the salad still had rucola in it. Our waitress and the a woman who we suspect of being the owner, both went into the kitchen to straighten this out. They came back with the well meant apologies from the chef.
Salads were nice and fresh. We were a little disappointed by the stripe of balsamico on both salads. Seems they start every salad like that. If so it's pure decoration and has nothing to do with taste or flavor.
Desserts were nice and all in all we had a very relaxed and nice lunch.
The Seterse Hoeve also has te opportunity to rent private rooms -with terrace- for parties.
---
Gasterij de Seterse Hoeve  |  Vijf Eikenweg 56  |  4903 RK  Oosterhout