Ratings : F-D – 3/5| TripAdvisor – 3.5/5 | Facebook – 4.1/5  | Google – 4.1/5
---
Driving by we have seen the sign 'Gasterij Stadzigt' very often and it was one of those places on our list 'to visit when the occasion arises'.
Last week finally we had a reason the visit this restaurant. It's located in the middels of a nature park operated by the organization Natuurmonumenten. Of course we are only interested in the part where you can get food and drinks…
Beautiful weather, and luckily we were able to get a table on the terrace.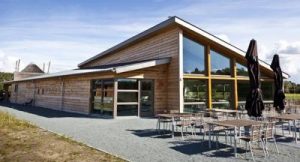 We ordered drinks and studied the lunch menu. The white wine is Spanish, the girl serving us had no idea of what grape, but of course willing to go inside to check. The beer is from Docqmans, a small brewer in Tiel in the Netherlands but the beer is advertised as Belgium???? Maybe worth some more research…
We ordered the fish trio -advertised on their printed menu as 'variety of smoked fish and tuna salad' with bread and butter-, the tuna melt and two veal croquettes on bread.
When served the fish trio was made up of salmon (smoked), some very tasteless and watery crayfish and the tuna salad that looked and tasted like canned tuna without anything done to prepare it and turn in into a salad. We mentioned our disappointment with the waitress who discussed it with the kitchen: "we always do the smoked salmon and the tuna and the third fish is whatever we have of could get our hands on".
(Strange that the menu on the website states a trio of fish without further specification.)
The tuna melt consisted of one slice of sourdough bread with the same boring tuna thinly spread and of course the cheese melted on top.
The two veal croquettes came on one slice of the sourdough bread.
All very 'sparse' and there was not enough value for money. Service was adequate but not very warm or welcoming.
---
Gasterij Stadzigt  |  Meerkade 2a  |  1412 AB  Naarden