Last week food-drinks.info visited the 4th edition of Heerlijk Hengelo. Heerlijk Hengelo is a yearly food festival where local restaurants present themselves.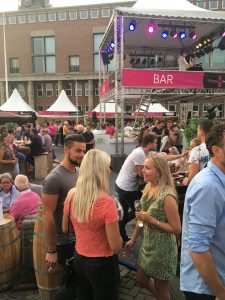 The 16 participants presented themselves from their stands where they served nice food tastings and some specialty drinks. Regular drinks could be obtained at the bar in the center of the festival area. Upon entering the festival visitors buy HH's (€ 1,25 each) to pay for their consumptions.
We enjoyed a nice chicken dish with rice from The Bombay Spice, a very authentic Indian restaurant.
We enjoyed a dessert at the stand of Brasserie So Nice. The thin sliced pineapple infused with mint and rosemary accompanied by a small smoothie with fresh strawberries was very tasty.
We had some fresh mussels cooked with local beer from De Twentse Bierbrouwerij/ Proeflokaal that went down very well.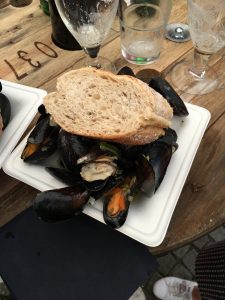 We finished our tasting tour with coffee from Flooresso where we also took the picture below.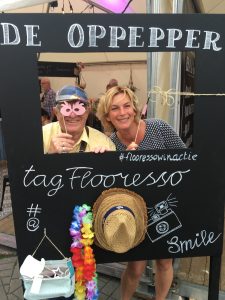 We visited Heerlijk Hengelo on the opening night. It was a beatifull Fridaynight with great weather. The event is very popular and the place was crowded!
We noticed some participants served 'specials' that are not on their regular menu. This seems a strange way to give the public the opportunity to get to know your restaurant.
Food-drinks.info will visit again in 2018. In the meantime we have to check out more of the restaurants in Hengelo.